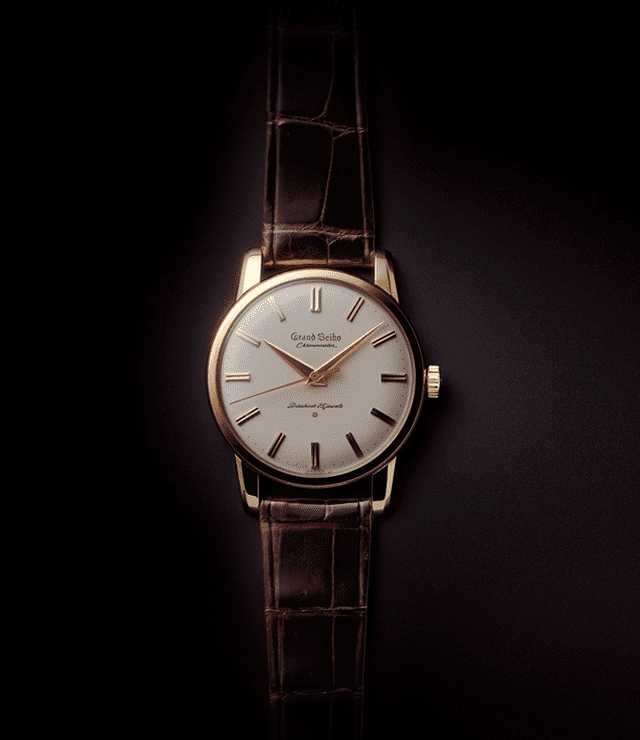 History of the only manufacture with every watchmaking expertise.
The story of Seiko began in 1881, when a 21 year old entrepreneur,
Kintaro Hattori, opened a shop selling and repairing watches and clocks in central Tokyo.

Today, after more than 130 years of innovation, Kintaro Hattori's company is
still dedicated to the perfection that the founder always strove to achieve.

On the following pages you can explore Seiko's long history
and see many of our landmark watches.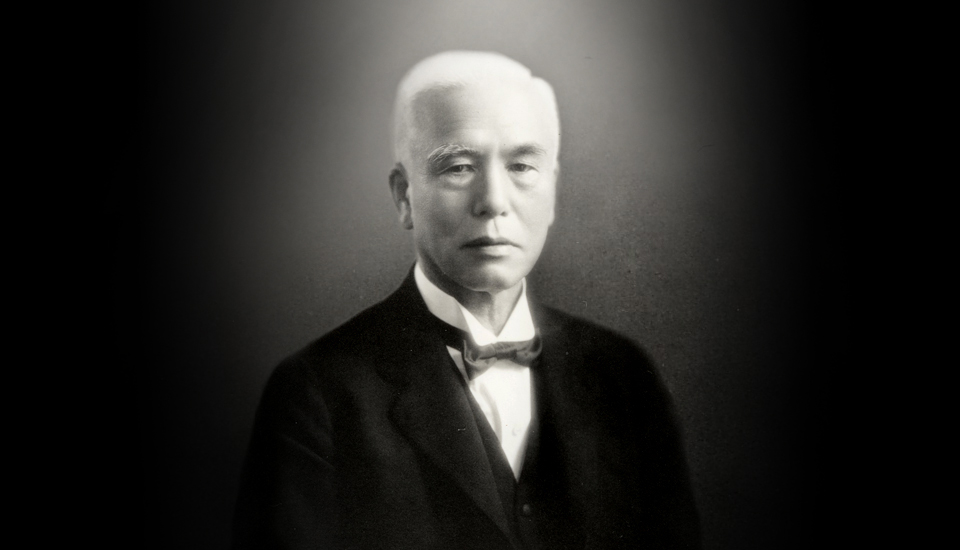 Kintaro Hattori opens a shop selling and repairing watches and clocks in Ginza, Tokyo.
The story of Seiko began in 1881, when a 21 year old entrepreneur, Kintaro Hattori, opened a shop selling and repairing watches and clocks in central Tokyo. Just eleven years later, in 1892, he established the 'Seikosha' factory.
Seikosha was founded; started producing wall clocks.
In 1892 Kintaro Hattori bought a disused factory in Tokyo and Seikosha was formed (In Japanese, "Seiko" means "exquisite", "minute" or "success" and "sha" means house). It was here that Kintaro Hattori produced his first clocks and these marked the beginnings of a company that was to become one of the world's most important manufacturers of timepieces.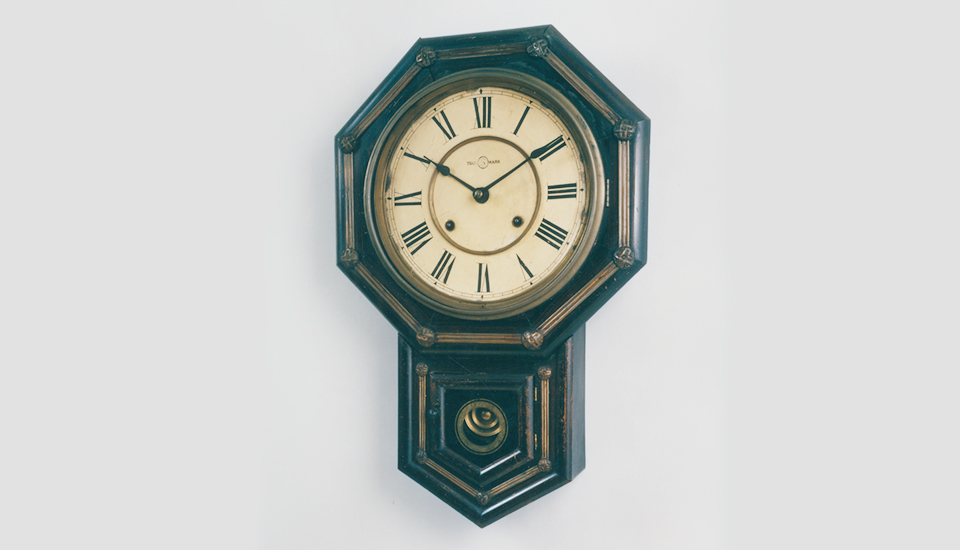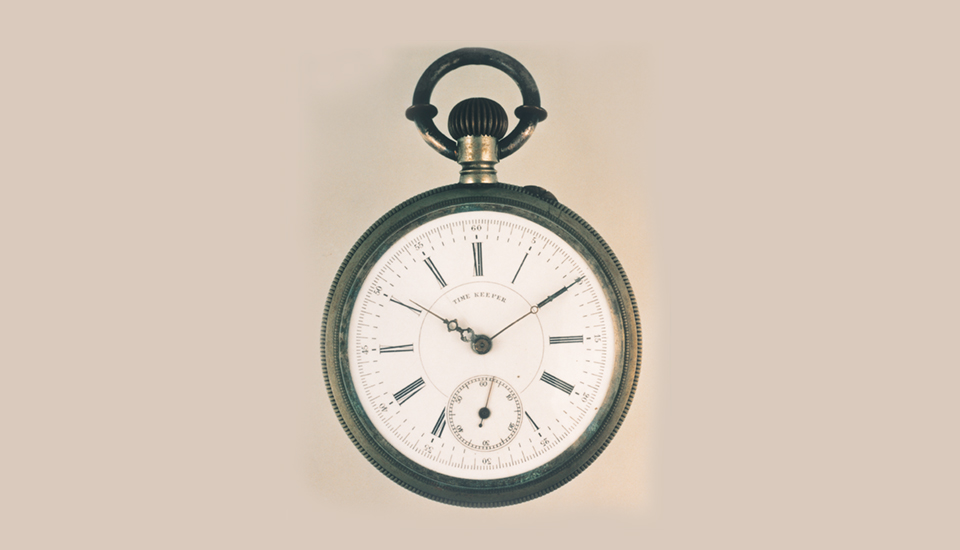 Seikosha builds the first pocket watch.
Throughout the 1890's, the success of Seikosha's wall clock business increased, and Kintaro looked to broaden the range of his business. In 1895, he created a pocket watch, the Timekeeper. It was a vital step forward, without which the future of Seiko would have been very different as it paved the way for Japan's first ever wrist watch.
The Laurel, the first wristwatch made in Japan, makes its debut.
In the beginning of the Taisho Era, pocket watches were still very popular and there were only a few wristwatches imported to Japan. Kintaro, however, was determined to be 'one step ahead' and embarked on the arduous task of creating Japan's first ever wristwatch. In 1913, he succeeded and the Laurel was produced. In the early days, the company was able to produce only 30 to 50 watches a day, but, for the first time, Kintaro had established a lead on the rest.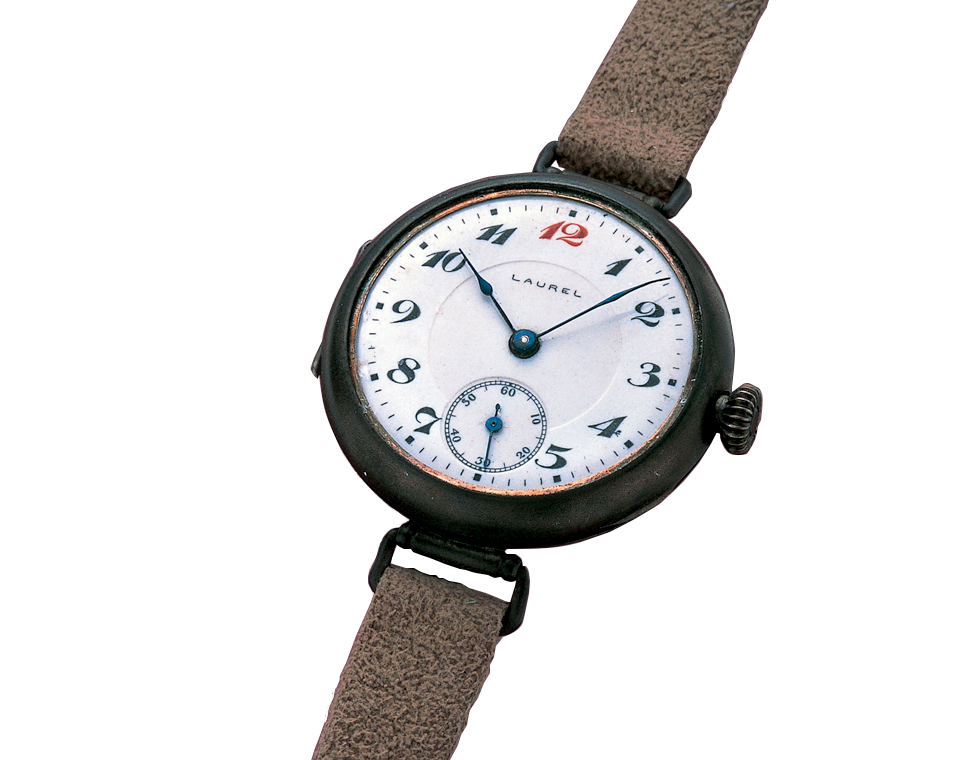 The first Seiko brand watch was produced.
In 1923, the Great Kanto Earthquake struck and the company's headquarters and the Seikosha factory all burned down. A fresh start had to be made. Just after the Earthquake, the company had created a new watch and it went on sale in December 1924.
It was the first to carry the name Seiko, introducing to the world for the first time the brand name that was later to become synonymous with precision and accuracy, innovation and refinement.
Seiko pocket watch is appointed as Japan National Railway's official "Railway Watch".
1929. As its railway network expanded, Japan National Railways appointed Seiko as its official supplier. Train drivers often made wooden cut-outs on their consoles where the approved pocket watch would sit in line of sight as they drove their trains.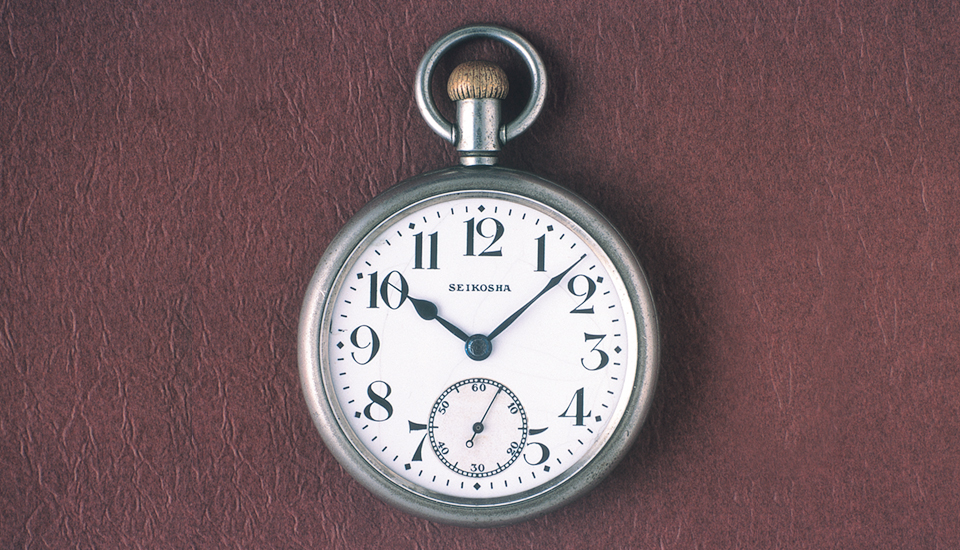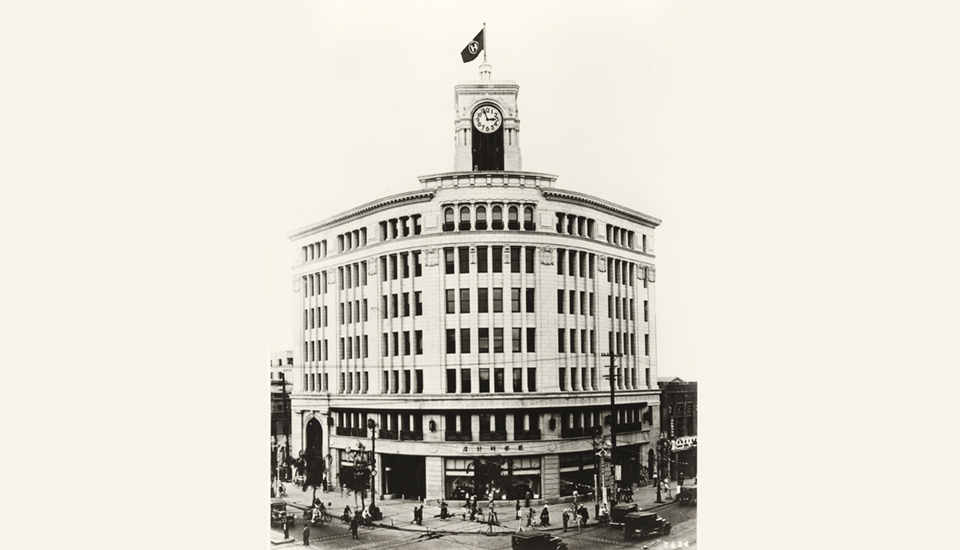 Constructed The Wako Clock Tower, the familiar face of Ginza.
The current clock tower was constructed in 1932. The building adopts a style called neo-renaissance.
Started to use "Diashock", a shock-resistance device.
Diashock is a shock-resistance device. When a watch is subject to shock, as when it is dropped on a hard floor, the component most likely to be damaged is the balance-staff pivot, which is the balance wheel's rotation axis. Even compared to other movement parts, this part is extremely thin, being only between 0.07 to 0.08mm in diameter, or about the same as a human hair.
Protection from shock is therefore crucial and the Seiko solution was to create Diashock, a device that absorbs impact on one of the most vulnerable parts of the mechanical watch, the balance-staff pivot. Diashock also reduces friction to ensure optimum amplitude of the balance wheel.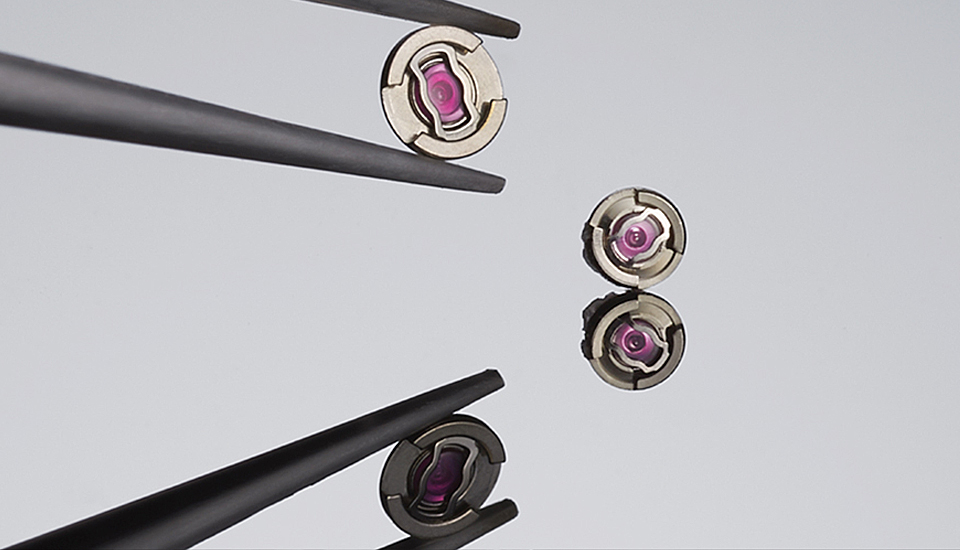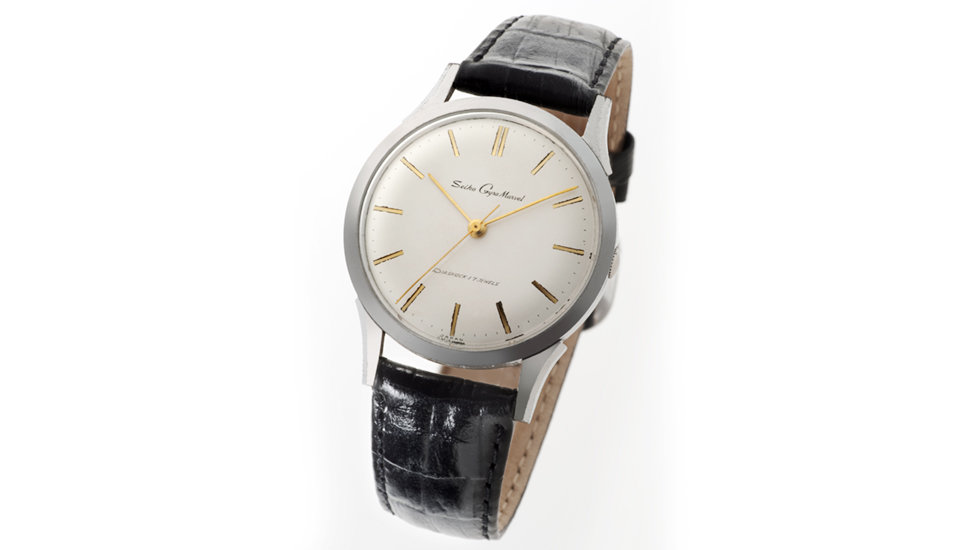 This is the first self-winding watch equipped with Seiko's proprietary "magic lever" system. The magic lever is an innovative self-winding mechanism that uses the simple "claw lever system" efficiently to transmit the power of the oscillating weight in both directions.
Magic levers are still used in SEIKO's self-winding watches on the market today. This low-cost mechanism with excellent winding quality instantly dominated the world market, pioneering the popularization of self-winding watches.
Seiko's signature piece, the Grand Seiko is first launched.
In 1960, the first Grand Seiko model was produced. High in the mountains in Nagano prefecture in central Japan. A small team of Seiko's most experienced and skilled watchmakers were entrusted with the task of making the very best watch of which they were capable. Grand Seiko was to represent the pinnacle of Seiko's excellence in mechanical watchmaking and to deliver more accuracy, legibility and durability than any other watch.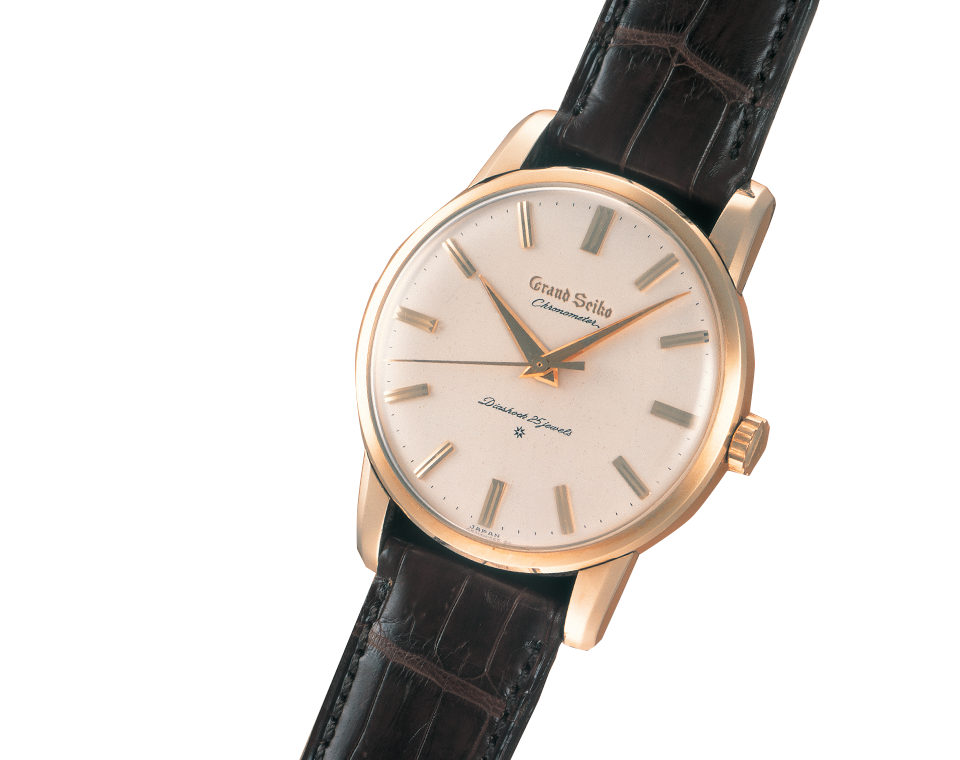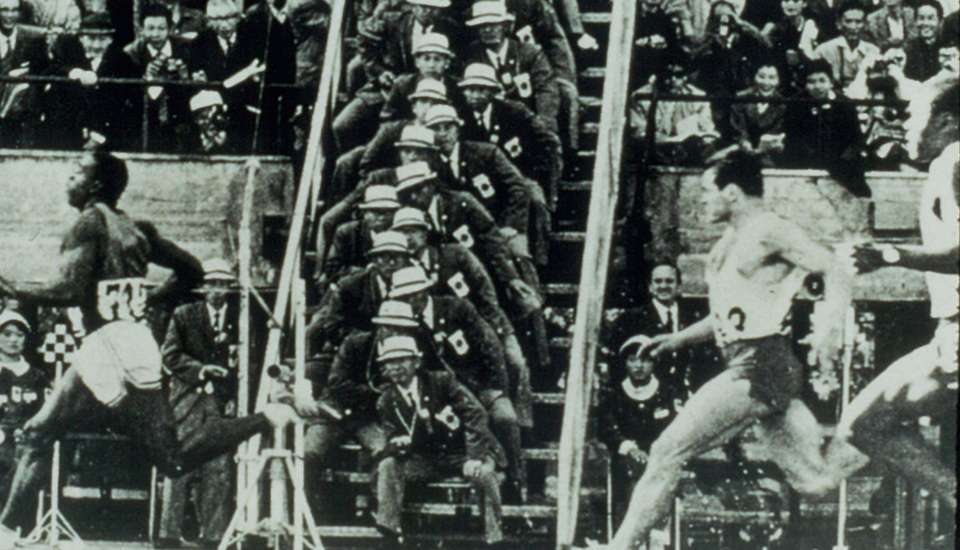 Seiko serves as Official Timer of the18th Olympiad, Tokyo, and provides 1,278 timing devices.
The day the Tokyo Olympic games opened, Seiko was ready with 1,278 timing devices, all purpose built for the task. The stopwatches created for athletics were tested by Mr. Paulen, later President of the IAAF.
After and hour of testing, two stopwatches registered less than 1/10 second of difference.
Thanks to a new heart-shaped cam on the balance, a new level of accuracy had been achieved. Seiko had passed the test with flying colors.
Introduced Japan's first wristwatch equipped with a stopwatch.
Japan's first wristwatch equipped with a stopwatch, introduced in 1964, the year of the Tokyo Olympic Games. Its smooth operation and durability were ensured by a column wheel.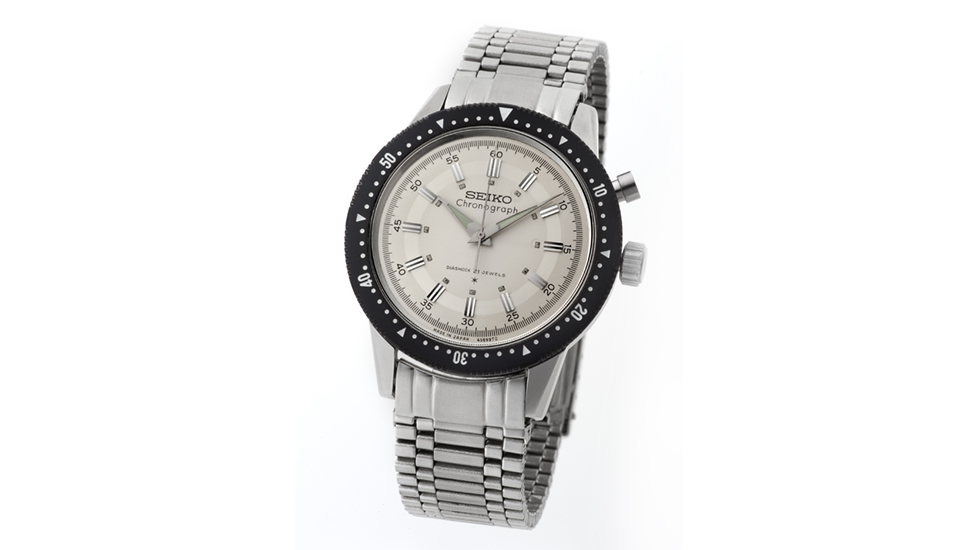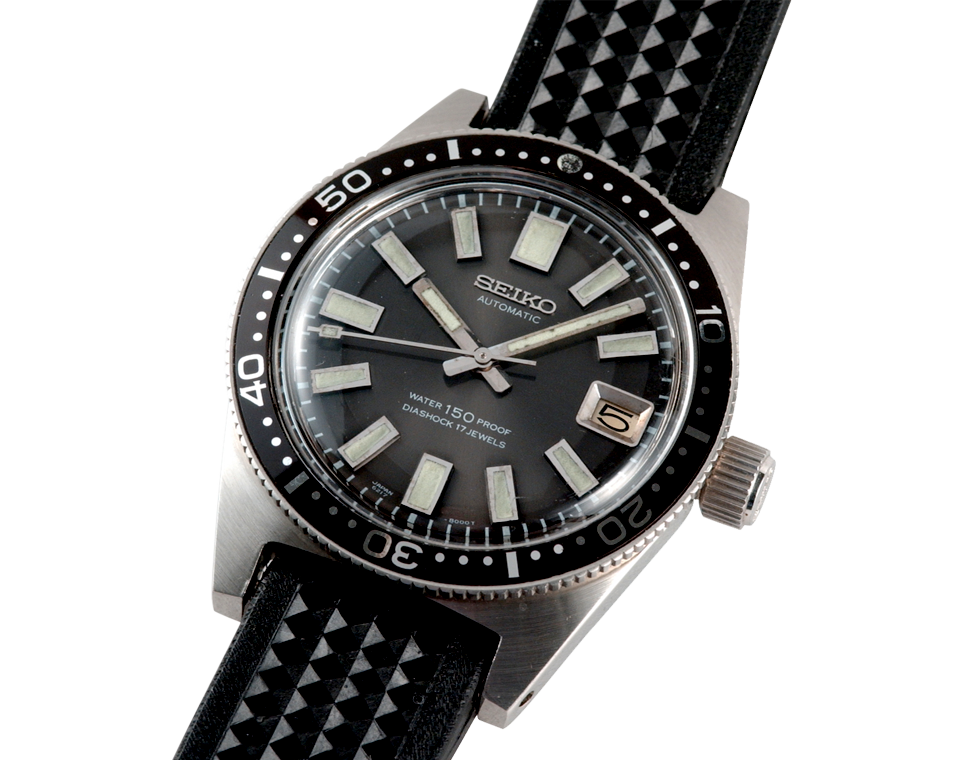 Produced the first Japanese Diver's watch
The first Japan-made diver's watch, waterproof to a depth of 150 meters. The winding crown was designed with a double packing structure to withstand high water pressure. Designated for use by the 8th Japanese Antarctic Research Expedition.
Neuchatel Observatory Competition and Geneva Observatory competition
In 1967, Daini Seikosha sent to Neuchatel calibre 45 movements that were being used in the Grand Seiko and King Seiko lines, and these were subsequently marketed as special pieces that ha passed the tests for "specially calibrated timepieces".
They were known as the Observatory Chronometers and these VFA Seiko watches took second and third places in the chronometer competition.
This was the last year of the Neuchatel cmpetition held under the old rules. Seiko then entered the Geneva Observatory competitions and at the very first attempt achieved a fantastic result.
Seiko's entries were awarded every place from fourth to tenth, which was the best result achieved by any manufacturer of mechanical wristwatches. Seiko achieved first place overall.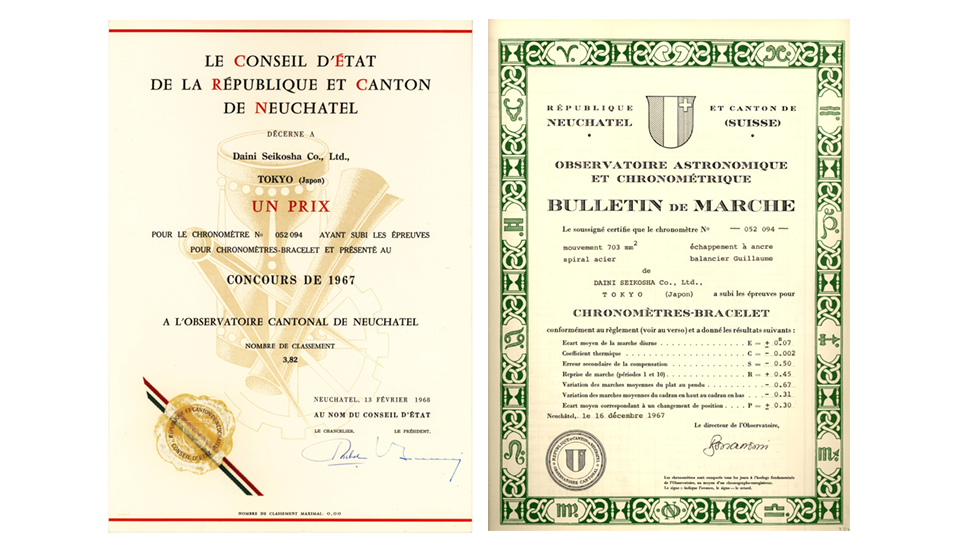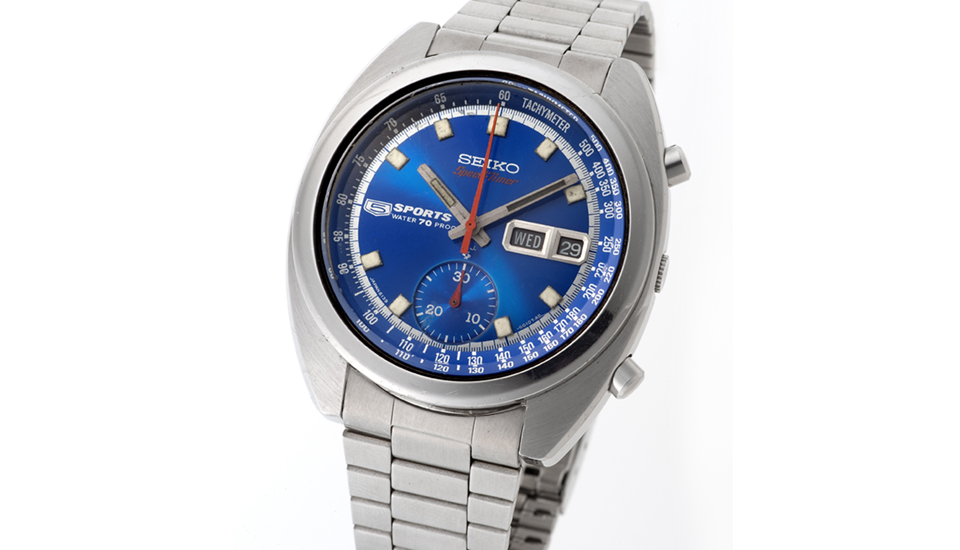 Introduction of cal. 6139, the world's first automatic chronograph watch equipped with both vertical clutch and column wheel.
As the world's first automatic chronograph with a 'magic lever', column wheel and vertical clutch, this may have been the world's first such timepiece, and it was a milestone in Seiko's journey toward pre-eminence in chronograph technology.
Introduction of the world's first quartz watch, "Seiko Quartz Astron."
The world's first quartz watch, the Seiko Quartz Astron was introduced in Tokyo on December 25, 1969. It delivered unmatched performance. It was accurate to within 5 seconds per month, 100 times more accurate than any other watch, and it ran continuously for a year, or 250 times longer than most mechanical watches. The quartz revolution had begun.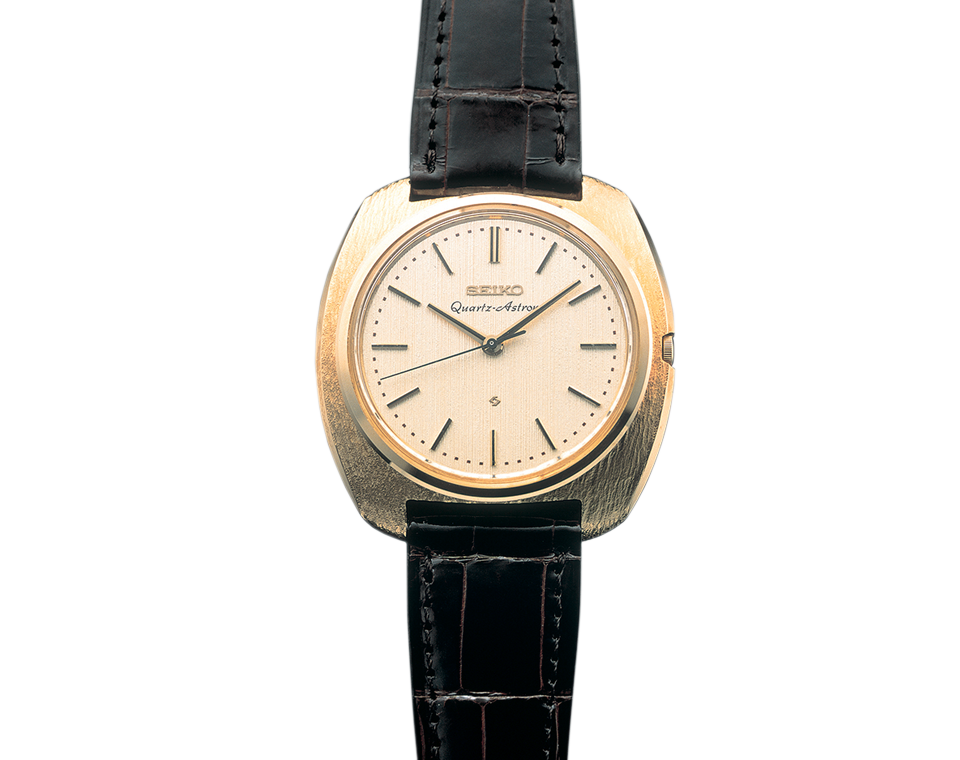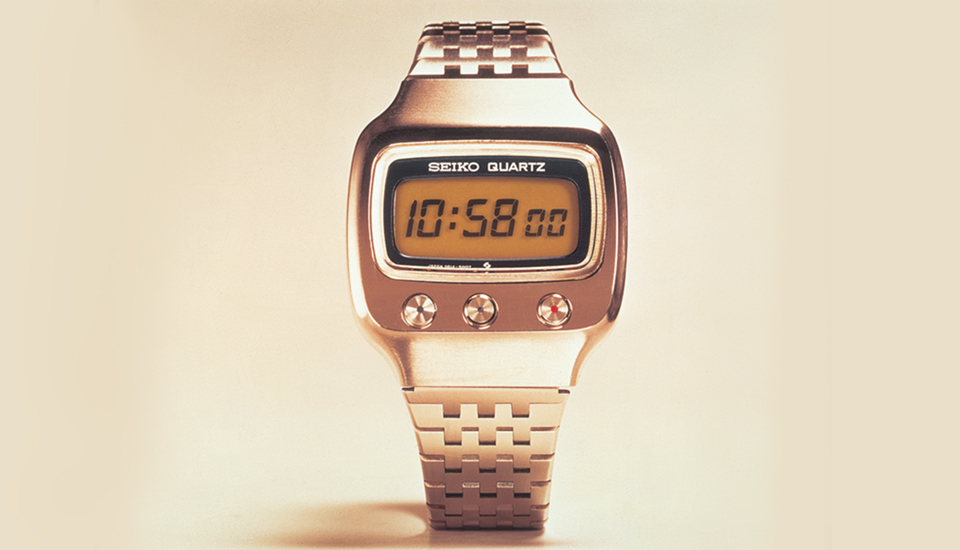 Introduction of the world's first six-digit LCD quartz watch cal. 0614.
This fully-electronic watch used the world's first six-digit liquid-crystal display to indicate the time. Capable of continuously displaying the hour, minutes and seconds on a field-effect liquid crystal display, this groundbreaking digital watch attracted wide attention when it was first marketed in October 1973.
The internally developed LCD was long-lived (50,000 hours) and had good contrast. A lamp provided enough illumination to make the numbers on the display easy to read even in the dark.
Introduction of the world's first multi-function digital watch cal. 0634.
In 1975 Seiko launched the world's first digital quartz watch with a chronograph, the 0634. It could record time to 1/10 of a second and had a lap time function. It also incorporated an internal light, so that it could be seen clearly in the dark. It became a huge hit and created the market for high-function digital watches.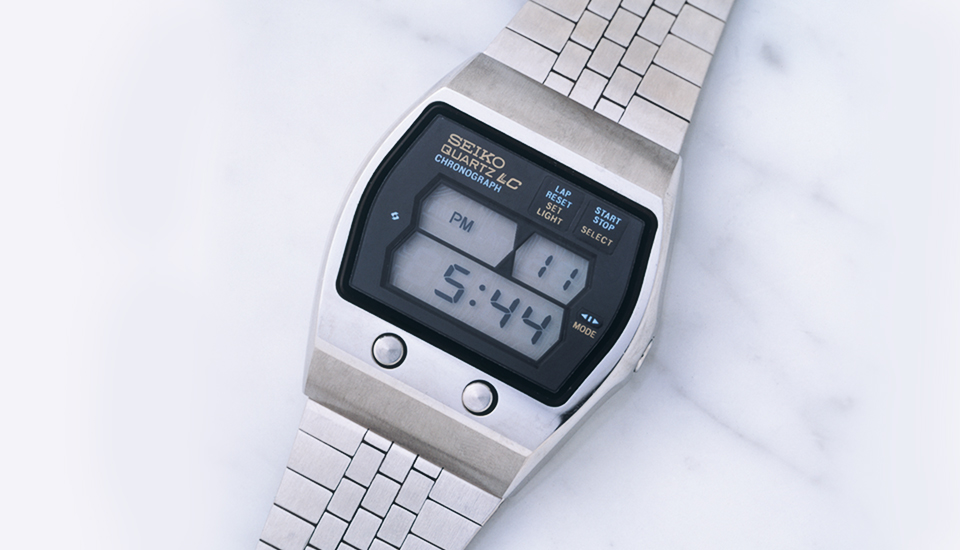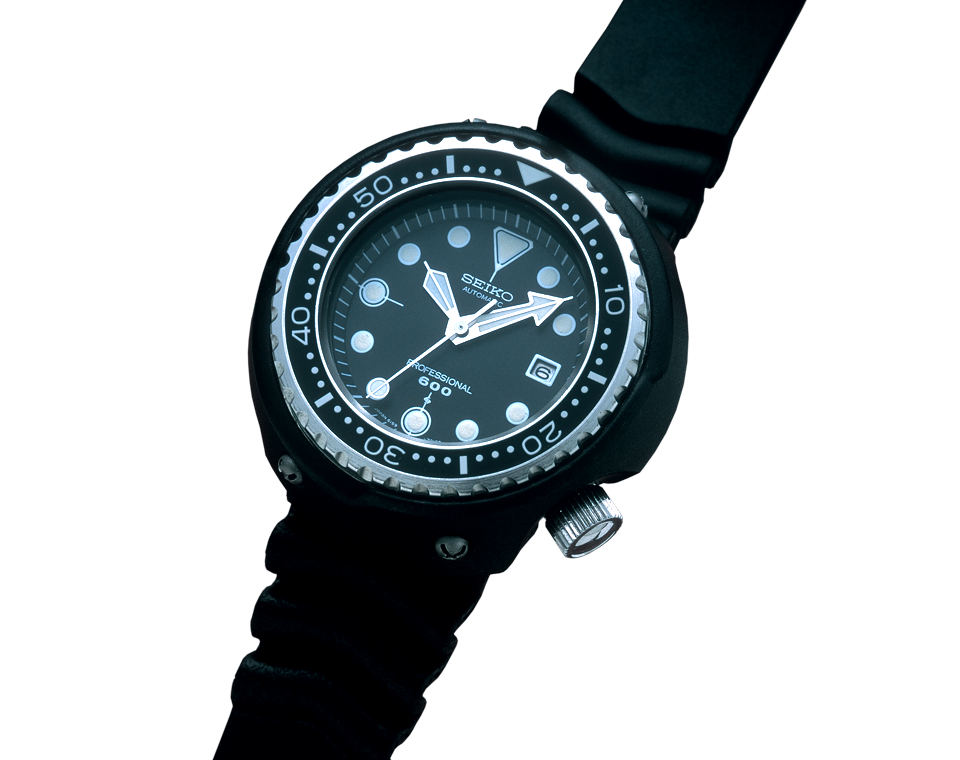 Introduction of the world's first diver's watch with titanium case, the Professional Diver's 600m.
One day in 1968, Seiko's engineers received a letter from a professional diver from Hiroshima Prefecture. The letter shocked Seiko's engineers with its vivid description of the stresses and strains put on a watch by professional saturation divers who dive to depths of 350 meters. Seiko took up the challenge. After seven years of research, the Professional Diver's 600m, the world's first diver's watch with titanium case, was created. A gasket impervious to helium, legible at great depths and with a titanium case. It set a new standard for diver's watches.
Introduced the world's first TV watch.
The world's first watch designed with both a tuner and headphone jack for watching TV at any time or place. Also equipped with an FM radio, together with all of the standard watch functions such as alarm, chronograph, and calendar.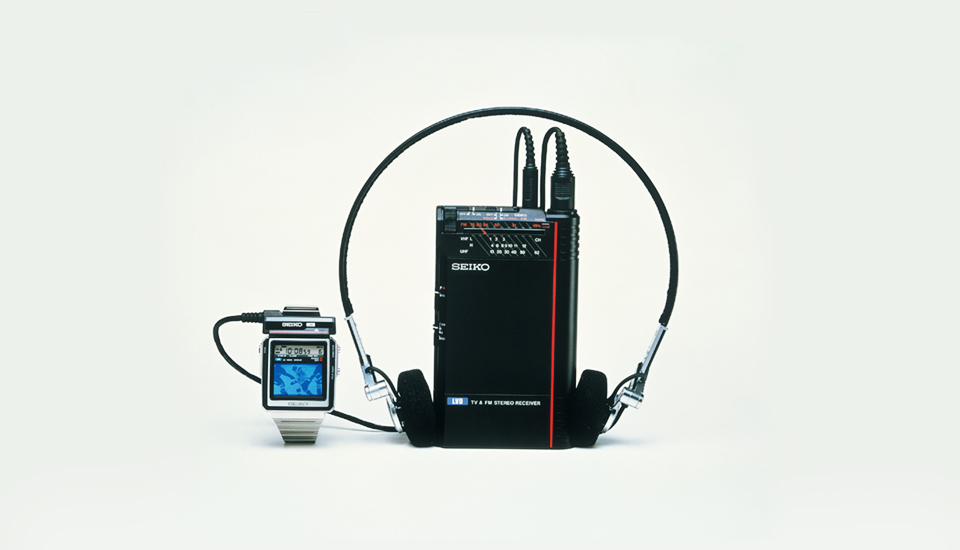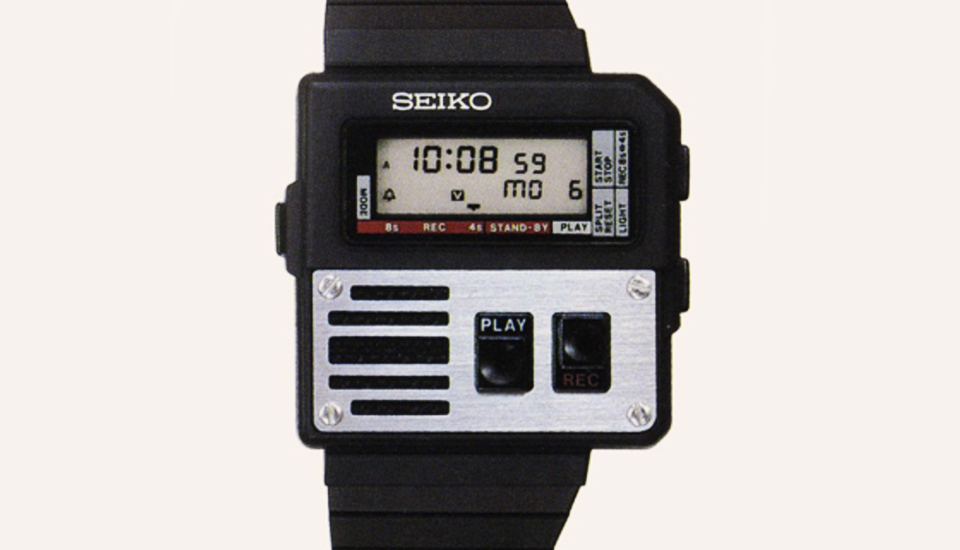 The world's first Voice Recording Watch 'Voice Note'
Since 1973 when intoroduced world's first six-digit LCD quartz watch, Seiko had developed wearable information devices.
'Voice Note' is the world's first watch equipped with a voice recording function. The sound for maximum 8 seconds can be recorded and played as a voice memo. It also plays a voice alert at the setting time.
Introduction of the world's first analog quartz watch with chronograph.
Seiko's mastery of quartz technology and of mechanical chronograph watchmaking came together in the creation of the world's first analog quartz chronograph. It measured elapsed time to 5/100 second and offered split time capability and a tachymeter. It was designed by the celebrated Italian car designer, Giorgetto Giugiaro.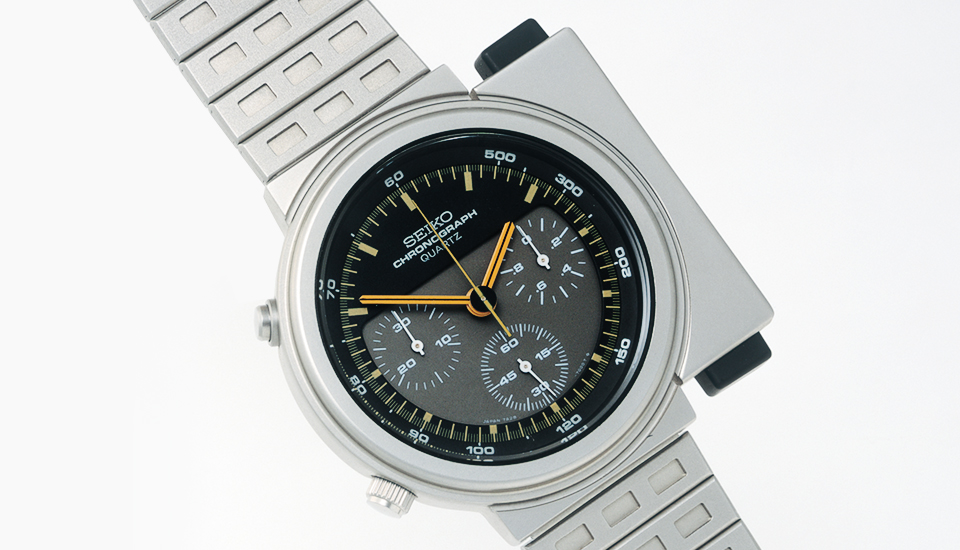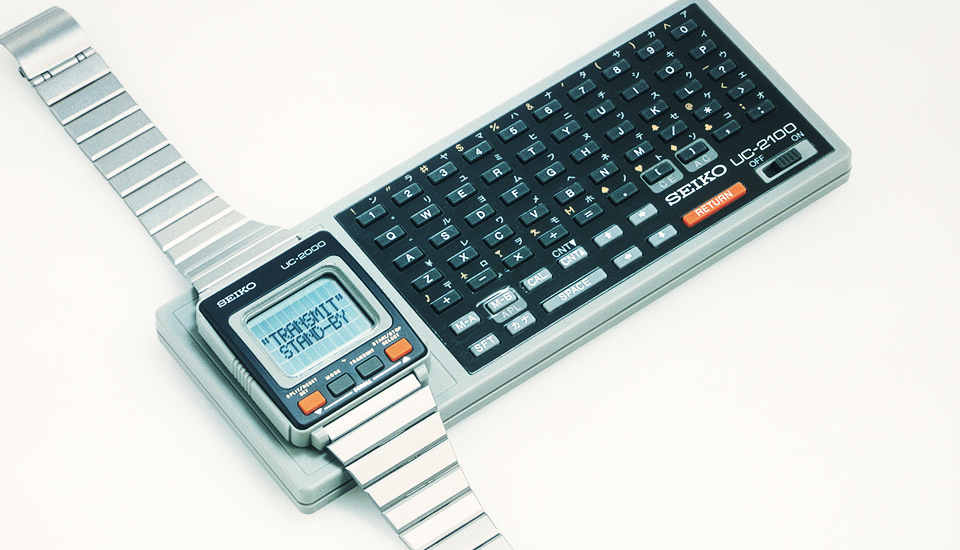 Introduction of the world's first watch with computer functions UC-2000.
After introducing the world's first TV watch, Seiko introduced a wrist computer that stored data. It was the first of its kind. It had memory of up to 2,000 characters and could store telephone numbers and addresses as well as a diary or schedule for up to one month. The Seiko wrist computer marked the beginning of the age of portable information devices.
The world's first Diver's 1000m with a ceramic outer case
The Diver's 1000m was the first watch to use ceramic material for the outer case layer. The lightweight, corrosion resistant titanium case with a remarkable one-piece structure enabled this watch to withstand depths of 1,000 m.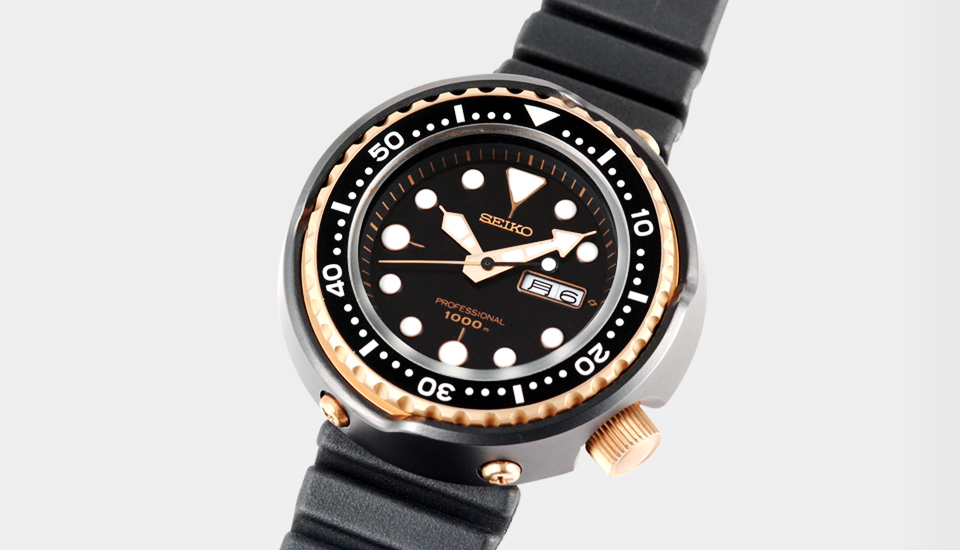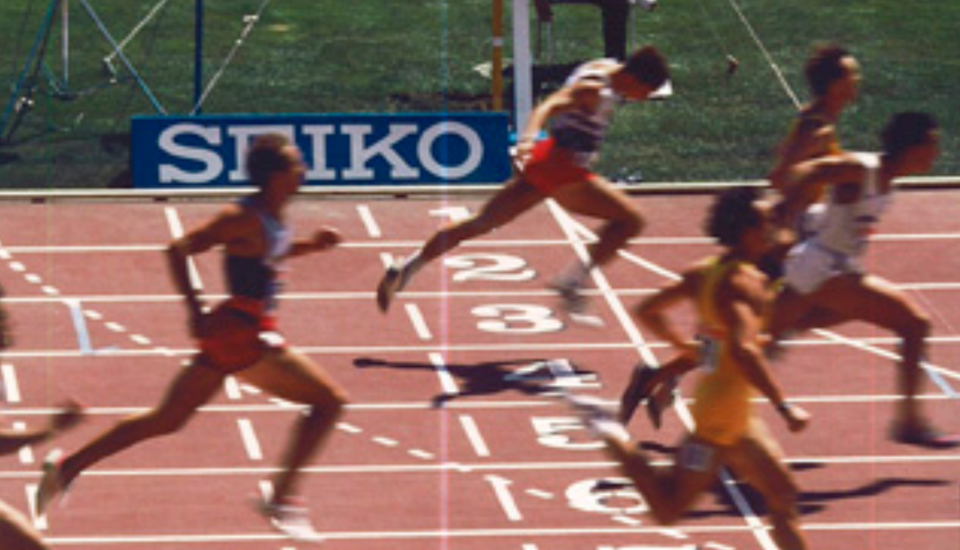 Served as Official Timer of the IAAF World Championships in Rome, Italy.
Seiko serves as Official Timer at the 2nd IAAF World Athletic Championships in Rome, Italy.
Introduction of the world's first "A.G.S." watch cal. 7M22 (later renamed as "Kinetic.")
From the moment that the quartz watch was born, Seiko strove to create 'no battery change' technologies. In 1977, Seiko introduced the solar powered watch and, in 1986, a quartz watch with hand winding generating system.
In 1988 came the big breakthrough; Seiko KINETIC, a watch with an oscillating weight that converted the wearer's motion into electricity and thus powered the quartz movement.
Introduction of the world's first computerized diver's watch "Scubamaster" cal. M726 with dive table and depth meter functions.
Seiko's mastery of electronic watchmaking and long experience in diving watches allowed the creation of the Scubamaster, that was equipped with a water sensor and depth sensor and that displayed diving time and depth, vital information for divers.
Served as Official Timer of the IAAF World Championships in Tokyo, Japan.
Seiko serves as the Official Timer at the 3rd IAAF World Athletic Championships in Tokyo, Japan.
Seiko serves as the Official Timer at the Games of the 25th Olympiad in Barcelona, Spain.
Seiko was selected to time the Olympic Games in Europe for the first time. A team of over 300 engineers and timing specialists served the event.
Served as Official Timer of the IAAF World Championships in Stuttgart, Germany.
Seiko serves as the Official Timer at the 4th IAAF World Athletic Championships in Stuttgart, Germany.
A new generation of Grand Seiko mechanical watches.
The first new Grand Seiko mechanical caliber in twenty years. It set a new Grand Seiko standard, with cutting-edge production technology making possible a new interpretation of the traditional values of Grand Seiko.
Introduction of Spring Drive, a spring-driven luxury mechanical watch with quartz accuracy.
Spring Drive is a technology unique to Seiko. The traditional escapement is replaced by a totally new regulator that delivers silent and smooth glide motion hands and accuracy of one second a day.
Introduction of the Ultimate Kinetic Chronograph cal. 9T82.
Seiko's successful Kinetic watch was equipped with stopwatch function in a very unique design. It is equipped with zero resetting function using heart shaped cam and special movement construction that avoids dusts.
Introduction of the first Grand Seiko Spring Drive automatic winding movement. Power reserve extended 72 hours.
Since unveiled in 1998, Spring Drive movement has been improved and reached its adoption in the Grand Seiko. Cal. 9R65 has a 72-hours power reserve in addtion to an automatic winding mechanism.
Introduction of the world's first three-band (Japan, Germany, US) Radio Wave analog Solar watch.
Seiko commercialized solar powered radio controlled analog watches capable of receiving the standard wave of three countries (Japan, US and Germany), the first device of its type.
Introduction of the Kinetic Perpetual.
Powered by the motion of your body, it is the first watch to generate and save its own electricity. It goes to sleep when not worn and the hands return automatically to the correct time when put on again. The perpetual calendar will be correct until February 28, 2100.
Introduction of world's first E-Ink watch.
Using, for the first time in a watch, electronic ink technology, time or any other data is presented on a wide display area, with perfect legibility at any angle. Furthermore, the display allows the wearer to choose from many presentation graphics for the time, including a "day and night" background that shows, in a dazzlingly simple graphic style, AM and PM. This watch won the Grand Prix de Geneve.
Introduction of Credor Spring Drive Sonnerie.
Only Spring Drive presents the true natural and continuous flow of time, with no 'tick' as the hands move in perfect glide-motion. Only Spring Drive is so silent that time can be marked by the long, lingering chime of the Japanese Orin bell.
Introduction of the Spring Drive Chronograph.
Thanks to its glide motion hands, only the Spring Drive Chronograph can measure elapsed time exactly, and not to the nearest fraction of a second. It redefines the accuracy of the spring-driven chronograph by offering one-second-a-day precision.
The first new hi-beat caliber in Grand Seiko for 41 years.
A 10 beat caliber, mechanical Hi-beat 36000 beats at ten times a second. While the faster vibration rate makes a watch more resilient to shock and thus more accurate, it also consumes more power from the mainspring and demands greater resiliency from other components.
Grand Seiko's 10 beat movement delivers an accuracy of +5 to –3 seconds a day, a power reserve of 55 hours and the durability for which every Grand Seiko watch is renowned.
This is the result of many years of development and of advances both in the design and manufacture of components and in the materials themselves.
Introduction of Seiko Spring Drive Spacewalk commemorative edition.
This watch was designed specifically for a spacewalk. Both inside and outside the International Space Station, it performed flawlessly in space. It won the sports watch award of Grand Prix d'Horlogerie de Genève.
The world's first EPD watch with an active matrix system.
This new display system retains all the legibility benefits of Seiko's first E-Ink watch, but allows for a much richer range of imagery and data to be displayed on the watch dial with 80,000 pixels, each capable of four different shades, delivering 300 dpi of display.
Introduction of Credor Spring Drive Minute Repeater
The beautiful lingering sound of the chime is created by the use of a special steel forged by a celebrated Japanese steelmaker, Munemichi Myochin. The purity of the sound is ensured by the magic of Seiko's totally silent Spring Drive mechanism.
Introduction of the world's first GPS Solar watch, Seiko Astron GPS Solar.
At last, the search for totally precise time, everywhere on the planet, is over. By developing our own, patented, low-energy-consumption GPS receiver, Seiko has been able to create a watch that can receive GPS signals and identify time zone, time and date data using the global network of GPS satellites. It recognizes all the 39 time zones on earth. This breakthrough timepiece is called Seiko Astron. Like its celebrated 1969 predecessor which was the world's first quartz watch, the new Seiko Astron ushers in a new age of timekeeping technology.
100th Anniversary of Seiko watchmaking.
When, in 1913, Seiko built its first wrist watch, the company's president called it the Laurel. It was not only a first for Seiko, but also a first for Japan and it was the beginning of a tradition of innovation that resulted directly from Kintaro Hattori's determination that Seiko would always be "one step ahead of the rest". Movie shows Seiko's historical timepieces.
The Seiko Astron GPS Solar 8X Series Chronograph. The Astron revolution gathers pace
Astron GPS Solar has been an outstanding success since its launch in September 2012, with its huge global acceptance giving proof positive of the global demand for a watch that adjusts to time zones. The new Astron caliber offers four new features, designed to attract new consumers to the fast-growing world of Astron.
Seiko Astron GPS Solar Chronograph
Chronograph: The new caliber offers a 6 hour chronograph whose operation could not be more simple.
Smaller: The new case size is 30% smaller, and the watches' dimensions (44.6mm x 13.3mm) are now the same as most mainstream multi-function watches.
This new size, which opens out many new design possibilities, has been achieved by a new advance in Astron's energy-saving technology which allows the watch to connect to the GPS network with a smaller antenna.
Easier: The simple 'one-touch' operation of the GPS function has not changed; just press one button for six seconds and Astron's GPS function is activated.
However, the secondary functions (manual time zone selection etc) have been made more accessible and more intuitive thanks to the new electronic setting function of the crown.
More colors: The classic Astron black dial is available in the new design, but new color dials are now possible, thanks to a new dial with extremely high light penetration capacity.
Seiko wins the "Petite Aiguille" prize at the 2014 Grand Prix d'Horlogerie de Genève
The watch that won the "Petite Aiguille" award was first revealed at Baselworld 2014. It is the Hi-beat 36000 GMT Limited Edition (SBGJ005). In both performance and appearance, it expresses the very best of Seiko's mechanical watchmaking.
The caliber has a high accuracy of +5 to -3 seconds a day and a power reserve of 55 hours. The GMT hand can be used as a dual time indicator with the hour hand being adjustable independently as the time of day hands continue to mark time.
It is the perfect watch for the international traveler.
Seiko's first tourbillon watch the FUGAKU from the Credor brand
Caliber 6830 is Seiko's first tourbillon movement. Caliber 6830 was created utilizing the utmost in mechanical movement manufacturing expertise, with the base part a mere 1.98mm thick. Including the carriage, the whole movement measures just 3.98mm in depth, and the diameter is just 25.6mm, with the result that it is the world's smallest tourbillon by volume.
Introduction of Grand Seiko Spring Drive movement 9R01. Power reserve extended 8 days.
Caliber 9R01 is the remarkable movement with a power reserve of eight days (192 hours). This extended power is provided by a linked series of three barrels, while general mechanical movement equipes one barel only. The three barrels are arranged vertically to save space. 9R01 has also been designed throughout to maximize energy efficiency, reducing friction between parts that would otherwise lead to loss in the transmission of the energy derived from the mainspring.
Grand Seiko "The Black Ceramic." Expansion of its horizons
Practicality and durability are vital attributes of all the best sports watches and are also core values of Grand Seiko which has demonstrated a consistent commitment to the pure essentials of watchmaking since its creation in 1960. Grand Seiko expands its design into sports watch category from the black ceramic models introduced in 2016.
Grand Seiko became an independent brand from Seiko
Grand Seiko has always been distinct in its design, character, presentation and, more recently, its calibers. In order to further reinforce its unique appeal and to reach out to a wider audience, it was decided to take one step further and presenting Grand Seiko as an entirely separate brand.